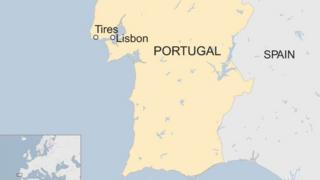 A small Swiss-registered plane has crashed near a Lidl supermarket in Tires, just west of the Portuguese capital Lisbon, killing five people.
Portuguese media say the victims were the pilot, three passengers and a lorry driver, whose vehicle was hit.
The plane crashed soon after take-off from a local airfield. It is not yet clear why it came down.
Tires is about 20km (12 miles) from Lisbon, and near the upmarket coastal resort of Cascais.
Portugal plane crash: Five dead in Tires near Lisbon