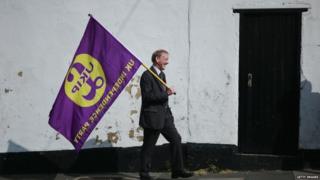 UKIP has lost all its council seats declared so far in England and Wales, in what senior figures say is a "challenging" result for the party.
After results from 25 local authorities, UKIP has lost 44 councillors and made no gains.
It was wiped out in Lincolnshire, losing 13 seats, while all its nine representatives in Essex were defeated.
Former MEP and leadership contender Steven Woolfe said UKIP's influence was now "at an end".
Mr Woolfe, who quit the party last year after an internal dispute, told BBC's 5live that if the choice at next month's general election was between Conservative leader Theresa May and UKIP leader Paul Nuttall he would "have to vote for Theresa May".
Elections expert John Curtice said UKIP, which won 3.8 million votes at the 2015 general election, had lost "everything they've been trying to defend".
The BBC's political correspondent Ross Hawkins said that while the party would continue to be well represented on district councils, there were growing question marks over its electoral future.
UKIP's losses come just weeks before a general election in which the Conservatives are hoping to squeeze their vote.
In Lincolnshire, where UKIP leader Paul Nuttall is standing in the general election in Boston and Skegness, the party went from being the official opposition to having no seats at all as the Tories gained 23 seats.
It also lost eight seats in Hampshire and two seats on the Isle of Wight.
'Still relevant'
Senior UKIP figures sought to put a brave face on the performance.
"I won't use the word 'disaster', I'll use the word 'challenging'," Ms Duffy told the BBC. "We knew it was going to be a difficult night."
Peter Reeve, a county councillor standing for re-election in Cambridgeshire, said the election was always going to be hard since in 2013, when the seats were last fought, the party had enjoyed its best ever performance.
"It's early days… Even if we don't win a single seat, we are still a very relevant and real voice in local politics," he told BBC Breakfast, pointing out the party would still end the day with more than 300 councillors.
He suggested Theresa May had been "very successful" in making Brexit the main issue in the local elections.
"We are not saying this has been a good night. We have lost some very hard-working colleagues. The reality is the national agenda has taken over."
Asked about the party's future, he said leader Paul Nuttall had a "long-term role" to play and that UKIP was more interested in changing the country than "political power".
Conservative defence secretary Michael Fallon said his party appeared to be picking up votes from UKIP and other parties, but he cautioned that this did not mean this would be case on 8 June.
Local elections: UKIP suffers big losses across England}