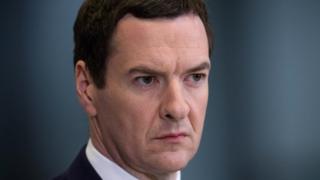 Former chancellor George Osborne has quit his role as an MP, his new employer the Evening Standard has reported.
The Conservative MP for Tatton, who will become editor of the newspaper, said: "I am stepping down from the House of Commons – for now."
He said he was "very excited" about working at the Evening Standard.
Mr Osborne's decision comes after Theresa May's call for a snap election on 8 June.
'New challenges'
In a letter to Conservatives in his Tatton constituency, Mr Osborne said: "I will remain active in the debate about our country's future and on the issues I care about, like the success of the Northern Powerhouse.
"I want a Britain that is free, open, diverse and works with other nations to defend our democratic values in the world.
"I will go on fighting for that Britain I love from the editor's chair of a great newspaper. It's still too early to be writing my memoirs."
Following last month's announcement that Mr Osborne would be taking over as editor of the London-based free newspaper from Sarah Sands, questions had been asked about how he would combine that role with being an MP for a northern constituency.
Mr Osborne, who is to edit the paper four days a week, said: "At the age of 45, I don't want to spend the rest of my life just being an ex-chancellor. I want new challenges.
"I'm very excited about the opportunity to edit the Evening Standard."
Mr Osborne, who was chancellor for six years, had ambitions to be a journalist as a young man.
He failed to get a place on The Times' trainee scheme after graduating from Oxford University – at which he edited its Isis magazine – and was briefly a freelance reporter on the Daily Telegraph's diary column.
Since being axed as chancellor by Theresa May when she became PM last July, Mr Osborne has picked up a number of other jobs.
---
George Osborne's various jobs
MP for Tatton: Paid £74,962 a year
Editor, London Evening Standard: Paid £200,000, according to reports
Adviser, BlackRock Investment Institute: Paid £650,000 a year
Chair, Northern Powerhouse Partnership: Unpaid
Kissinger Fellow at the McCain Institute: £120,212 stipend to cover travel and research costs
Washington Speaker's Bureau: Paid nearly £800,000 for engagements since July
---
George Osborne to quit as MP for Tatton at election}