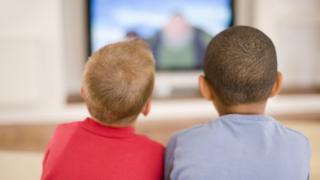 Adverts for junk food and sweets would be banned from all TV shows broadcast before the 21:00 watershed under Labour plans to tackle childhood obesity.
The party says the proposal forms part of a future child health bill that will be outlined in its election manifesto.
Products high in fat, salt or sugar are currently banned from being advertised during children's TV only.
The Tories said they had the world's "most ambitious" child obesity plan that would be put at risk by Labour.
According to Labour, introducing a ban on pre-watershed junk food promotions would reduce children's viewing of such adverts by 82%.
It says the move would affect programmes including The X Factor, Hollyoaks and Britain's Got Talent, shows campaigners say are popular with children but not specifically aimed at them.
Labour says its strategy on child health aims to halve the number of overweight youngsters within 10 years in an effort to curb the £6bn annual cost to the NHS of obesity.
The party said a £250m fund would be created by halving the amount the NHS spends on management consultants each year. It would be used for investment in school nurses and counselling services in primary and secondary schools in England.
'Bold action'
A future Labour government would also measure progress in child health against international standards as part of an "ambition to make Britain's children the healthiest in the world", the party said.
Labour's Shadow Health Secretary Jonathan Ashworth said: "The scandal of child ill-health is a long-standing, growing and urgent challenge.
"It should be a matter of shame that a child's health is so closely linked to poverty and that where and in what circumstances you grow up can dramatically affect your life chances."
He added: "When it comes to our children we should be ambitious. It's time we invested properly in the health of the next generation. That means the sort of bold action we are outlining today to tackle obesity and invest in mental health provision."
The Conservatives' childhood obesity plan announced last August set out the action local communities, the food industry, schools and the NHS should be taking over the next 10 years.
It was criticised by health experts, the health select committee and campaigners for being "weak" and "watered down".
But Tory public health spokesman Nicola Blackwood said: "Reducing childhood obesity is vital. That's why the public health watchdog says that the childhood obesity plan we've put in place is the most ambitious in the world, and why we have one of the strictest TV advertising regimes of any country.
"We spent £3.4bn on public health programmes last year – that can only be funded by a strong economy which Jeremy Corbyn would risk with his nonsensical economic ideas."
General election 2017: Labour proposes junk food ad ban}