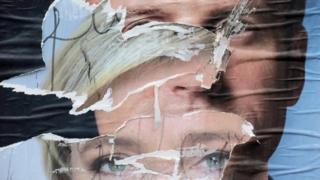 The two candidates hoping to be France's next president are making a final push for votes on the last day of campaigning before Sunday's election.
Centrist Emmanuel Macron – who has a substantial lead in opinion polls – is visiting the southern city of Rodez.
His National Front (FN) rival, Marine Le Pen, had eggs thrown at her as she campaigned in Brittany on Thursday.
Meanwhile Mr Macron has filed a lawsuit over online rumours that he had a secret bank account in the Caribbean.
He has strongly denied the allegations, which were mentioned by Ms Le Pen in Wednesday evening's rancorous final TV debate between the two contenders.
An opinion poll by the Odoxa Institute for France Info predicted Sunday's election would have the lowest turnout of any second-round presidential vote in France since 1969. The institute reported that far-left voters were particularly unlikely to vote.
A separate poll, carried out by Elabe for BFMTV and L'Express, found support for Mr Macron had risen to 62% among those who had decided how to cast their vote, compared to 38% for his far-right rival.
In other developments on Thursday:
Former US President Barack Obama endorsed Mr Macron in a video message, praising his "liberal values" and saying he "appeals to people's hopes and not their fears"
Ms Le Pen's estranged father Jean-Marie, a co-founder of the National Front (FN) who was expelled from the party in 2015, said he thought she "perhaps did not rise to the occasion" in the TV debate
The issues dividing Le Pen and Macron
Five things the French election has told us
---
Poll tracker
Please enable Javascript to view our poll of polls chart.
Last updated April 25, 2017
*Polling results up to this date show how people said they would vote on 7 May, if Macron and Le Pen reached the second round
The polling average line looks at the five most recent national polls and takes the median value, ie, the value between the two figures that are higher and two figures that are lower.
French election: Macron and Le Pen wrap up tense campaign