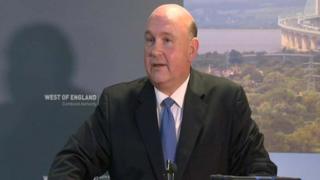 Fewer than a third of registered voters used their ballot in the election of the first of six new English regional mayors.
The elections on 4 May will see "metro" mayors take the reins of groups of councils known as combined authorities.
The first to be declared, in the West of England, saw just 29.7% of people vote at all.
And reports from other counts reveal some areas saw as few as one in four turn out.
Conservative candidate Tim Bowles won the £62,000-a-year West of England post with 70,300 votes. Turnout was only 29.7%, with 199,519 voting out of a possible 671,280.
The West of England Combined Authority (WECA) he will lead brings together councils for Bath and North East Somerset, Bristol and South Gloucestershire.
Turnout for the region was lowest in Bristol South, where just 25.55% of people voted, and highest in Bristol West, where 40.7% of people chose a candidate.
There will be new mayors in:
Cambridgeshire and Peterborough
They will assume powers over transport, housing, planning, skills and economic development.
Find an election
See results and latest news in your area
Turnout where counting is still under way was also low.
In Greater Manchester the overall turnout was just under 29%, ranging from 32% in Stockport and Bury to 25% in Stockport and Rochdale.
City of Wolverhampton Council revealed just 25.21% of its electors voted in the West Midlands mayoral election. The West Midlands Combined Authority will oversee devolved powers for Birmingham, Coventry, Solihull, Wolverhampton, Walsall, Sandwell and Dudley.
The West Midlands mayor has been predicted to be a close race between Labour's Sion Simon and Conservative Andy Street.
And in Cambridgeshire and Peterborough it was 33% overall, varying from 26.7% in Fenland to 42.4% in South Cambridgeshire.
Alongside voting for the region's first mayor, 61 councillors are being elected to the county council .
In Peterborough, where there were no council elections, turnout was 24.7% which equates to 33,201 votes.
The count for the mayoral votes is due to begin at 12:30 BST with the successful candidate expected to be announced later.
The turnout for Liverpool City Region was about 26% with a result expected around 14:00 BST.
The lowest turnout was 20.5% in Halton.
However, the turnouts for the mayors are better than those for the first police and crime commissioner elections in 2012, which saw just 14.9% of voters cast a ballot.
Elections 2017 results: Low turnout in elections for new mayors}